Many of us with green fingers seek to have a beautiful garden with pretty flowers and a lovely garden seating set to relax on. As a result, many people consider adding lawn edging to finish off their perfect garden space. In this article, we're telling you some great garden-edging ideas.
How to separate grass from a flower bed
When you've spent time gardening and improving your house's curb appeal, the last thing you want to find is grass in your flower bed. Adding lawn edging is a fantastic way to separate grass from your flower beds.
It's important that you find a high-quality lawn edging solution that's sturdy and can be properly secured into place. Many edging options just sit in position rather than being fixed. This causes them to move over time and can make it more difficult to distinguish between your garden and your flowerbed.
An excellent garden edging solution could also help to keep weeds at bay. If grass does appear in your flowerbed, try digging up the grassroots. This is usually the best course of action, but it may depend on your grass type.
Lawn edging ideas for easy mowing
One of the main factors people think about when choosing garden border edgings is whether they are easy to mow around. Many garden bed options look great but are not suitable for mowing near due to flimsy parts.
Our garden edging solution, FlexiBorder, has been built using robust rubber materials that are secured into place using long pegs. Our strong materials mean that you can easily continue mowing closely to the product. We've ensured that lawnmower wheels can glide effortlessly across the edging so that you don't need to worry about giving your garden an uneven mow.
Lawn edging ideas for a low-maintenance garden border
One of the best ways to ensure your garden border is low maintenance is by choosing the right flowers and greenery for the right places. You'll have a good understanding of where in your garden gets the most sunlight and where is shady. You may also have some spots that see no sunlight all day, but don't worry!
There really is a garden plant for every spot in your garden. Additionally, you can purposely look for plants that don't require too much attention. Many plants will change throughout the year and don't require you to prune them too much.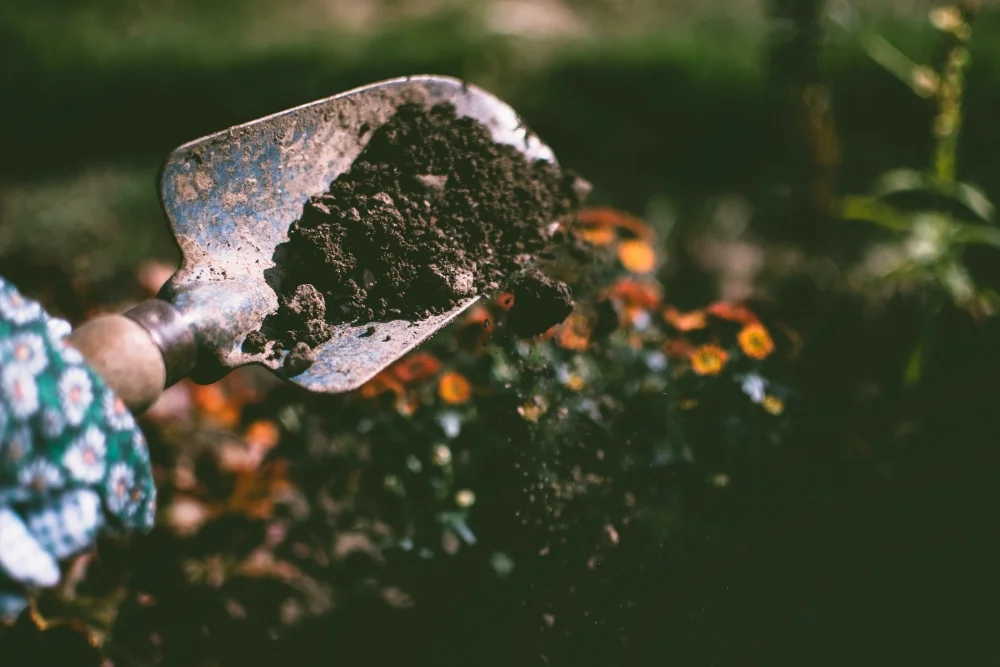 Another way to achieve a low-maintenance border is to mulch the soil. This helps retain moisture in the soil and regulates the temperature, allowing plants to grow more consistently.
Other people may look to achieve a more contemporary look using decorative gravel and large rocks. Those with larger gardens may want to have a combination of grass and fine gravel. Larger rocks tend to take the attention off flower beds, allowing you to go for a less-is-more approach for your garden beds.
You could look at flowers and plants that thrive in different seasons. This is a great way to add variety to your garden throughout the year.
Another option is to consider using a raised flower bed design. Using a garden edging solution around your raised flower beds will add more colour and take a simple garden to a stunning one with a modern look!
Garden edging idea: How to keep lawn edges neat
Many people look to create a neat garden design. The best way to achieve that is to use an attractive garden edge. Lawn edging helps to add definition and allows you to keep your garden looking neat.
Lawn edging helps to keep the grass to one side and plants to the other. Lawn edging doesn't just have to be used to outline the edge of your lawn, it can be used anywhere. Some people use edging to separate different areas of the garden. For example, FlexiBorder can be used around an outdoor seating area or a children's play space.
FlexiBorder is often used around sports facilities and outdoor play areas due to its high-quality, low-maintenance design. FlexiBorder is made from recycled rubber from tyres, so you're helping us to care for the environment by purchasing the product.
Garden-edging ideas that separate spaces with a natural look
One of the reasons why FlexiBorder is so popular is due to its ability to create both straight edges and curved garden borders. Using quality rubber allows us to manufacture a product that can create curved lines at a 70-degree angle. This is great for those wanting to frame certain areas of the garden.
For example, you may choose to use the border to create a neat edge around a plant or tree that sits away from the edge of the garden. This is a fantastic way to add a focal point to your garden space. You can use the product for both straight lines and curved spaces.
FlexiBorder can be used to create a classic look on any flat surface, even in smaller gardens. Some people use the border edging around water features and even patios.
Using our edging materials to create a decorative design
Our team believe in flexibility, which is why we have ensured that our rubber edging is incredibly easy to install and can be cut to your desired length. The product will need measuring and can be cut using a handsaw if necessary. Find out more about how to install lawn edging.
We know the importance of having a stunning garden design, so we create FlexiBorder in various colours. These include grey garden edging, black, terracotta, green and brown.
Our wide offering means that you can match your border to the rest of your garden's natural style. FlexiBorder can be used to create a simple design or for creating unique patterns around the garden.
If you're searching for a lawn edging idea, FlexiBorder is a cost-effective option with many practical benefits to create a timeless look in your outdoor area.
FlexiBorder is an eco-friendly, secure, weather-resistant product that can really help you to create your dream outdoor space. We hope that our favourite lawn edging ideas have been useful. Visit our online shop to start planning your perfect garden before the summer months. Don't hesitate to contact us if you have any questions.